FIAS provides support to the competition policy team that applies its global expertise to projects in several countries to enhance competitive markets. One such example is in the Philippines, where FIAS-supported regulatory changes eliminating constraints in domestic shipping licensing and promoting risk management have generated new investments, savings, and pro-competitive behavior. 
In March 2019, The Philippines Agribusiness Trade and Competitiveness project completed implementation, achieving its objective of enhancing agri-fisheries' trade connectivity. Targeted reforms in eliminating competition constraints in domestic shipping licensing and promoting risk management in agri-quarantine have generated $34 million in additional investments in domestic shipping (exceeding the project target of $17 million), and $3 million in private sector savings for agricultural importers.
The project also created a foundation for promoting more extensive competition policy and trade facilitation reforms. Project teams helped improve competition in the transportation and logistics sectors across three interventions:
Lowering incumbent firms' ability to delay the entry of new competitors, promoting greater flexibility in the deployment of ships

Limiting the conflict of interest of the port authority as regulator and operator
Improving access to market information through the creation of a national database for maritime sector performance
Beyond these reforms, the project also supported pieces of legislation intended to enhance competition in the domestic shipping sector and overall market competitiveness. The Foreign Co-Loading Act was enacted to allow foreign-owned vessels to participate in imported and exported cargo's inter-island movement. The Philippine Competition Act was also passed, tackling broader anti-competitive behavior among firms. These two reforms enhance the project's overall results by institutionalizing pro-competition programs and creating strong foundations for future growth.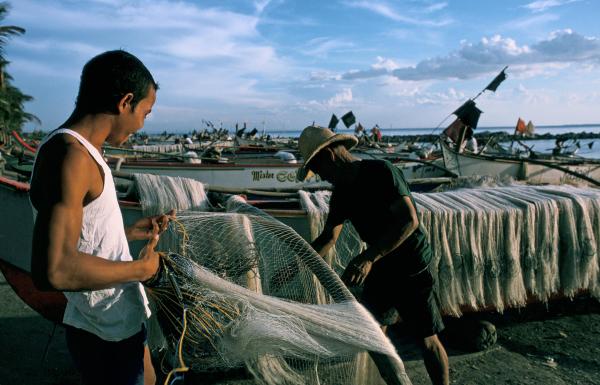 Men fixing fishing nets on the shore. The Philippines. (Photo: World Bank, Edwin Huffman)