In-depth diagnostics to identify economy-wide and sector-specific limitations to private sector growth and to point up growth opportunities are pivotal to helping countries maximize investment and job creation. FIAS support for the World Bank Group's Country Private Sector Diagnostics (CPSDs) is a cornerstone of FIAS strategy and allows for a pragmatic development approach to maximize impact. 
CPSDs are a new tool designed to identify constraints to private sector investment, pinpoint sectors with the most significant potential for private sector engagement and recommend specific activities to drive developmental priorities. This approach enables the World Bank Group, governments, and partners to define development challenges and take concrete actions to address them.
FIAS-supported CPSDs are underway in ten countries: Albania, Angola, Azerbaijan, Columbia, Ecuador, Jordan, Kazakhstan, the Philippines, Ukraine, and Vietnam. In these client countries, FIAS-supported CPSDs tackle cross-cutting constraints in critical enabling sectors such as agribusiness, digital infrastructure, and education, empowering investment, and sustainable growth in the medium and long term. CPSDs are also playing a crucial role in the COVID-19 context by utilizing a data-driven approach to recovery.
As examples of CPSD-related activity, project preparation in Kazakhstan is focusing on identifying ways to unlock agribusiness growth potential by analyzing the agribusiness sector and instituting reforms to motivate private investment in the livestock industry. The Kazakhstan project will leverage other Bank Group projects to create export-oriented livestock value chains by engaging numerous stakeholders. In Ecuador, a FIAS-supported team is preparing to launch a CPSD seeking to unlock new growth in the private sector by analyzing constraints in industries such as agribusiness and infrastructure. The project will produce policy recommendations enabling the country to increase its regional competitiveness.
The analysis from CPSDs leads to informed policy action mobilizing private investment and financing. It provides essential inputs into both World Bank lending operations, IFC investments, and Bank and IFC advisory projects. FIAS-supported diagnostic projects combine the World Bank Group and other development partners' knowledge and inform the IFC 3.0 Strategy, the Systematic Country Diagnostic (SCD), and the Country Partnership Framework (CPF), allowing for an effective, integrated development approach.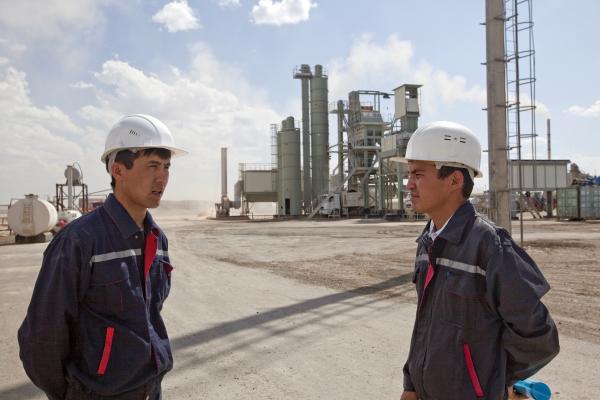 Road reconstruction workers at an asphalt plant. Kazakhstan. Photo: World Bank, Kubat Sydykov