FIAS-supported projects have responded rapidly to the emerging and evolving COVID-19 crisis by adjusting project activities to address urgent needs. FIAS has leveraged its proven track record in areas hardest hit by the crisis, including agribusiness and tourism, to support an accelerated recovery and help client countries build back stronger.
The COVID-19 pandemic has had a disruptive impact, infecting millions, halting economic activity, and creating widespread restrictions designed to curb the coronavirus spread. The pandemic-induced economic downturn is the severest in generations. The June 2020 edition of EFI's flagship economic forecast report,  Global Economic Prospects (GEP), predicts the pandemic will reverse significant progress in the fight against extreme poverty. Growth forecasts for all World Bank Group regions have been downgraded. FIAS priority regions, such as Sub-Saharan Africa, are expected to experience some of the sharpest contractions in economic activity, pushing millions back into extreme poverty.
The pandemic has created demand from World Bank Group clients for assistance and support in mitigating the pandemic's economic impacts. In March 2020, the World Bank and IFC's Boards of Directors approved a $14 billion package of fast-track financing to assist companies and countries in their efforts to prevent, detect and respond to the rapid spread of COVID-19. IFC is utilizing is $8 billion to support private companies and their employees hurt by the economic contraction. More than half that amount has already been deployed.
FIAS-supported activities Implemented by IFC Advisory Services teams have been integrally involved in the broader World Bank Group's pandemic response strategy. FIAS has leveraged its demonstrated history of rapid response and established relationships to mobilize support for Bank Group clients. Indicator-Based Reform teams have reacted quickly to client demand, and well-established relationships between FIAS-supported IFC Advisory country teams, client governments, and private sector entities have helped speed the response. FIAS has a proven track record in sectors hard-hit by the pandemic, including agribusiness, an industry central to the effort in preventing food insecurity, and travel and tourism, perhaps the sector hardest hit by the crisis. FIAS-supported teams have leveraged expertise on investment climate and sector-specific reforms to lay the foundation for an accelerated post-pandemic recovery by recreating, repairing, rebuilding, and restoring markets devastated by the crisis.
Examples of FIAS-supported global projects responding to the pandemic include:
In the manufacturing sector, FIAS is helping clients retool to produce COVID-relevant products (e.g. Georgia, Haiti, Jordan) and/or to shift to COVID-influenced manufacturing methods, with enhanced safety and sanitation measures. With the help of FIAS-supported teams, garment industries whose exports have been slashed due to the temporary collapse of global demand have been able to shift production lines to the manufacture of personal protective equipment (PPE) for health care workers and first responders. New manufacturing and research opportunities are being pursued in client countries in the biopharmaceutical and medical research fields.
The FIAS-supported Country Private Sector Diagnostics (CPSDs) have rapidly taken on board new analysis and diagnostic components geared specifically to COVID impacts, relief, and recovery. CPSD teams are focusing on a range of COVID-related topics, including: the state of the private sector; strengthening key enabling sectors such as transport, digital infrastructure, finance, and health; addressing hard-hit sectors such as tourism, mining, and manufacturing; and strengthening key domestic sectors such as food production to prevent COVID's economic impacts from exacerbating food insecurity.
Competitiveness Evaluation Lab (ComPEL), experienced with impact evaluation, assisted with the COVID-19 Business Pulse Survey (COV-BPS). The COV-BPS collected data in 11 countries across five regions to support government response in supporting businesses amid the coronavirus crisis. The survey will be scaled-up to reach 16 additional countries and be tailored to client governments' policy priorities.
COVID-19 Investment Promotion Agencies (IPAs) Survey, leveraging lessons learned from the Systemic Investor Response Mechanism (SIRM) collected data on COVID-19-related impacts and IPAs' responses from 46 national agencies across six regions. With the survey data, FIAS-supported project teams intend to implement policies to fast-track investor grievance management mechanisms (IGM) to address complaints caused by specific government actions aiding in a quick recovery and built resilience.
In South Africa, under the IFC's Regional Tourism Umbrella Program, a tourism industry-wide COVID-19 survey was developed quickly to analyze the pandemic's effects, the efficacy of response measures, and possible gaps in response. The survey results will be used to recreate jobs in a sector that has been hardest hit by the pandemic.
In Jordan, in response to the pandemic, FIAS-supported IFC Advisory Services teams have drafted instructions for food companies on how to prepare and implement a COVID-19 crisis management plan, which is currently under consideration by the Jordan Food and Drug Administration (JFDA). The project is also leveraging other pharmaceutical sector reforms for faster approval of new drugs and medical devices for the domestic and international markets.
In the Kyrgyz Republic, the FIAS-supported team is focusing on supporting small and medium enterprises (SMEs), particularly in the tourism industry, that have been imperiled by pandemic fallout. The project team has completed an assessment of the impact of COVID-19 on SMEs in tourism, which contributed to the government's post-COVID recovery plan. Similarly, in Tajikistan, the project team has adjusted the implementation to increase scope of work in tourism and add COVID response elements and enhance resiliency in the sector. Additional project adjustments are being considered.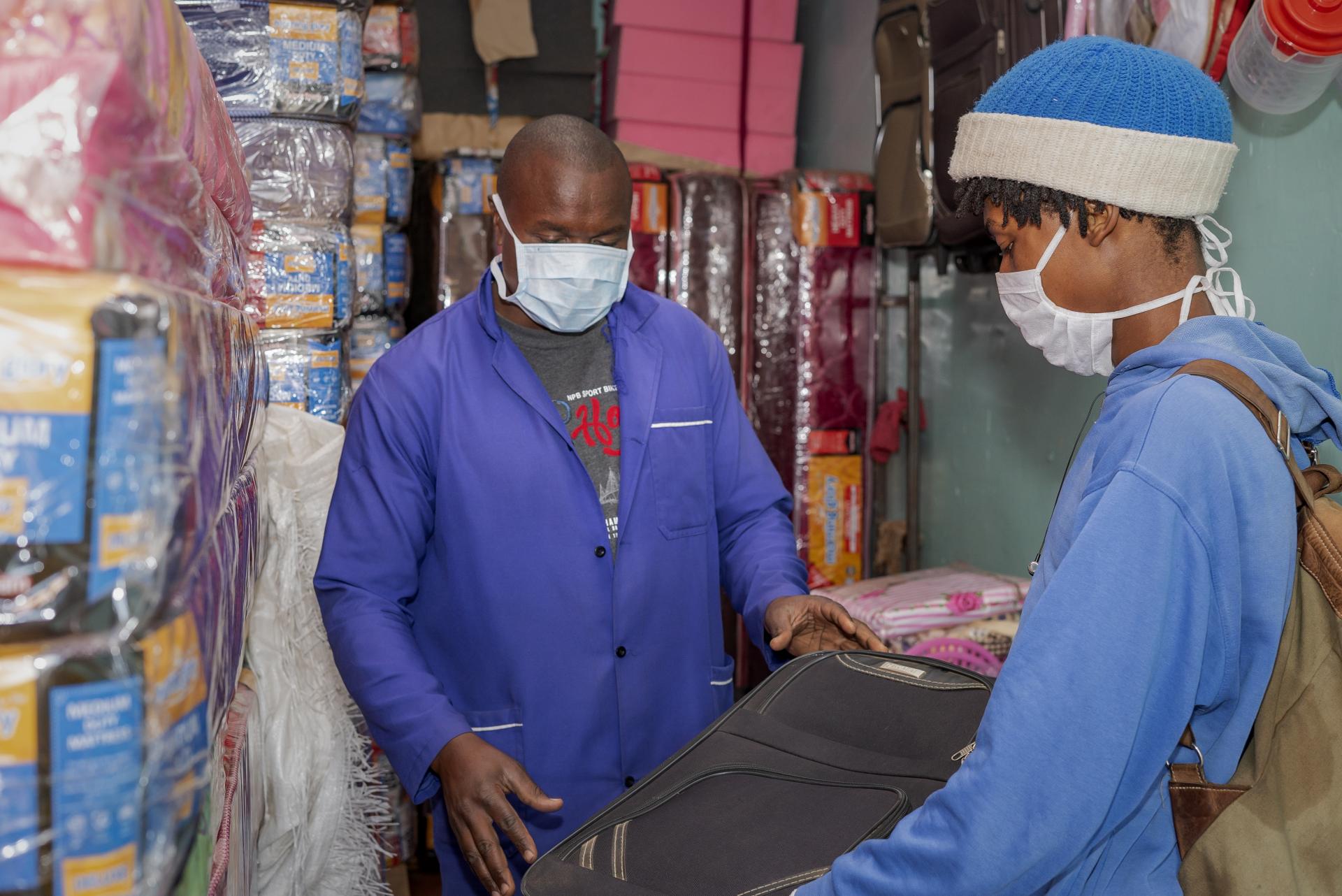 Masked buyer and seller at a shop in Nairobi, Kenya. Photo: World Bank, Sambrian Mbaabu