Motors serve industry in countless crucial ways—powering pumps, fans, and compressors—but also impose costs. The International Energy Agency (IEA) estimates that electric motors account for just over half of global electricity consumption and over 70 percent of industrial electricity use. Energy efficient motors are key to enabling private sector industries to be competitive. Through the FIAS-supported Smart Technology and Energy Efficient Production (STEP) program, IFC has worked with the Government of Egypt to encourage the use of higher-efficiency motors by Egyptian industries and to foster growth of a domestic energy-efficient technology manufacturing sector. 
At the onset of the program in 2015, a survey found that most motors in use in Egypt did not have a high international efficiency (IE-class) rating. Consumers were unaware of the availability of higher energy efficiency motors. Consequently, demand was low. Those motors that were in the Egyptian market were imports that sold for their low prices. 
Prior to STEP, the government was struggling to meet the rising cost of energy subsidies that had been in place since the 1970s as energy demand increased. But the gradual phase-out of the subsidies raised energy costs to the private sector, where inefficient motors continued to predominate. That, in turn, limited the competitiveness of Egypt's industrial sector.
STEP was designed to ease this transition by encouraging energy efficiency practices and supporting the growth of Egypt's domestic energy-efficient technology manufacturing sector. 
In 2021, STEP completed work with the Egyptian Ministry of Trade and Industry (MoTI) on a ministerial decree requiring higher energy efficiency standards for selected electric motors and the labeling of motors for energy efficiency. The move seeks to bring the Egyptian market for industrial motors in line with other major economies and create market opportunities for new local and foreign investment in a growth technology. Based on analysis conducted at the onset of the project, effective implementation could help save industry an estimated $560 million and reduce cumulative CO2 emissions by up to 9 million tons by 2030. According to the United States Environmental Protection Agency, "a typical passenger vehicle emits about 4.6 metric tons of carbon dioxide per year", which suggests that the cumulative emissions reduced will be equivalent to removing more than 1.9 million cars from the road. With Egypt hosting COP27, we are at a very critical juncture in the climate history of Egypt, where the country could leverage the decree as an effective "low hanging" industrial decarbonization option and position itself as a regional center of excellence in policy for energy efficient electrical equipment. 
Supporting the introduction of Minimum Energy Performance Standards (MEPS) was a key part of the program. MEPS define the energy performance of equipment and prevent the manufacturing, import, and sale of equipment below a set level. Global experience demonstrates that MEPS are one of the most cost-effective actions that can be taken by a government in this context. IFC has leveraged the technical knowledge of international and local experts to share best practices with MoTI and relevant industry stakeholders and applied state-of-the-art research and stakeholder engagement tools to develop and validate the project's analytical underpinning. 
After six years, the project closed out on a high note in 2021. The team organized a final awareness-raising workshop and knowledge dissemination on the scope of the decree. Key lessons learned from the engagement with government and private sector stakeholders: 
Making reliable and actionable information available is critical for success. Previous efforts to promote industrial energy efficiency foundered due to limited understanding of the benefits. IFC leveraged international and local experts to build the case for enhancing competitiveness. 
Developing trust among key stakeholders through transparency and face-to-face interaction is vital for sustainability. Without understanding the potential gains in tangible terms, private sector and other stakeholders would not have fully participated. 
Success takes time. General market conditions can never be properly anticipated and are often the primary cause of delays, so it is important to integrate this factor. 
The program was featured as a success story in the Korea Green Growth Trust Fund February 2021 newsletter and website, highlighting how a targeted intervention can bring about a comprehensive and long-term reduction of industrial energy consumption in Egypt and how it can help the country transition to a greener, more energy-efficient economy. An online storymap combining text with interactive multimedia content was also developed with the generous support of the Korea Green Growth Trust Fund to document the innovative project design elements and lessons learned to facilitate project replication and to encourage collaboration among the various players in the energy efficiency space.
STEP is funded by the governments of Denmark, Italy, and the Republic of Korea, alongside FIAS.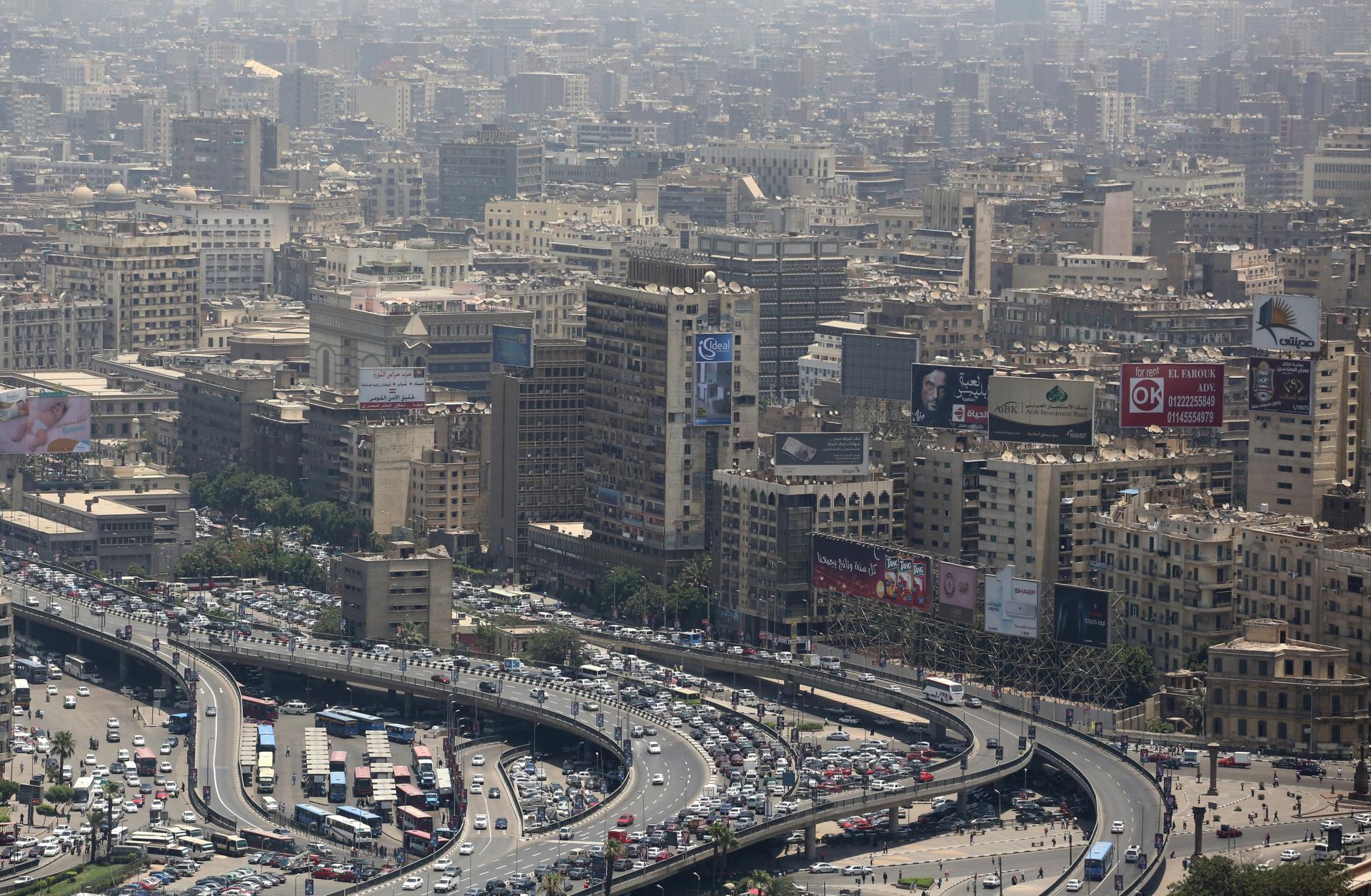 City view of Cairo during mid-morning rush hour. Photo: World Bank, Dominic Chavez