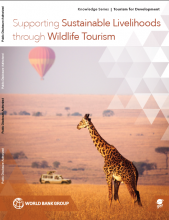 Supporting Sustainable Livelihoods through Wildlife Tourism
Tourism is an engine for jobs, exports, and investments. The tourism sector is also the largest, global, market-based contributor to financing protected area systems. Nature-based tourism (NBT) is a sub-component of the tourism sector that includes wildlife-based tourism. NBT is a powerful tool countries can leverage to grow and diversify their economies while protecting their biodiversity and contributing to many sustainable development goals (SDG), including SDGs 12 and 15. Local communities, private sector enterprises, and governments can also benefit from investments in tourism through increased market opportunities and linkages to tourism services such as agriculture production, hoteling, restaurants, transportation, health services, etc. This report explores innovative tourism partnership and investment opportunities to help countries unlock smart investment and grow tourism sustainably. It showcases sustainable wildlife tourism models from Botswana, India, Kenya, South Africa and many other countries and promotes solutions that offer insight into the wildlife-based tourism sector as a mechanism for inclusive poverty reduction and global conservation.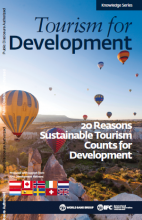 20 Reasons
Sustainable tourism is a proven tool for development, benefitting communities in destinations around the world. As demand for global tourism continues to grow, the opportunities for sustainable development also increase. This report aims to raise awareness of sustainable tourism as a powerful and effective tool for development, leveraging the momentum generated by the United Nations designating 2017 as the International Year of "Sustainable Tourism for Development". More than 50 years after the World Bank financed its first tourism for development projects in Morocco and Tunisia,1 the case for tourism as a sustainable development model is still a compelling one. Tourism is highly labor intensive, facilitates the development of new infrastructure, helps fund conservation, revitalizes modern and historic cities, and can contribute to international understanding. Despite these benefits, tourism is more often viewed as a luxury for those who can afford it, rather than a nimble development tool. This paper challenges development professionals to embrace the broad, cross-cutting potential of tourism to enhance the lives of those living in existing and emerging destinations.